Physicians' Board - Dr. Neeraj Kohli, MD, MBA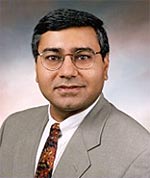 Director, Division of Urogynecology
Brigham and Women's Hospital
Assistant Professor
Harvard Medical School
Boston, Massachusetts, USA
nkohli@partners.org
Dr. Kohli is a nationally recognized leader in the field of Urogynecology and Reconstructive Pelvic Surgery, specializing in the treatment of pelvic prolapse, urinary incontinence, and advanced pelvic surgery. He has authored more than 100 scientific articles, book chapters, research abstracts, clinical presentations, and multimedia educational tools. Since relocating to Boston, he was previously the Co-Director of the Division of Urogynecology and Reconstructive Pelvic Surgery at Mount Auburn Hospital, Director of the Fellowship in Urogynecology, and Director of Urogynecology at Tifts New England Medical Center in Boston. He is currently Chief of Urogynecology at the Brigham and Women's Hospital in Boston.
Dr. Kohli received his undergraduate degree in medical sciences/economics in 1987 and then his medical degree 1991 through the Combined BA/MD Six Year Medical Program at Boston University School of Medicine. After completing his academic work, Dr Kohli entered the Ob/Gyn residency program at Beth Israel Hospital, Boston, and graduated with a special interest in pelvic surgery. He then entered the highly regarded fellowship in Urogynecology and Reconstructive Pelvic Surgery at Good Samaritan Hospital, Cincinnati, Ohio under the training of Dr. Mickey Karram, previous president of the American Urogynecologic Society. After completing his fellowship, he stayed on in Cincinnati as the Associate Director of the Division and Fellowship program, concentrating on teaching, research, and clinical practice. He returned back to Boston at Beth Israel Hospital/Mount Auburn Hospital in July 1999. During his initial return to Boston, he completed the Executive MBA program at Northwestern's Kellogg School of Management in Chicago, Illinois, graduating with honors in 2002.
Dr. Kohli's current interest include minimally invasive pelvic surgery and advanced technologies for the treatment of prolapse. incontinence, and pelvic pain. His many research interests include cost-efficacy of minimally invasive surgical techniques, obstetric risk factors for pelvic floor dysfunction, and clinical application of urodynamic testing. He is actively involved in teaching of medical students, residents, and fellows within the Harvard Medical School system and physician colleagues nationwide. He is currently a scientific advisor for Boston Scientific, Johnson and Johnson, CR Bard, as well as several small startup medical technology companies.